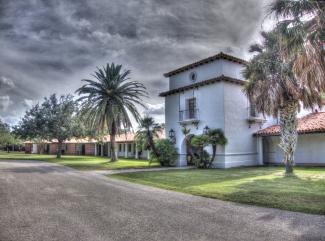 The Welder Wildlife Foundation Headquarters is located on the Welder Wildlife Refuge off HWY 77 approximately 10 miles northeast of Sinton, Texas. Most of the Headquarters complex was built in 1958. It consists of the main headquarters building, four residences, graduate student dormitory, visitors dormitory, and a rotunda that includes a dining area and complete kitchen.
Travel instructions
From Sinton, Texas, take Hwy 77 north toward Woodsboro and Victoria.  Depending on the exit you take leaving Sinton, after approximately 7–10 miles you will see a brown highway sign announcing the Rob & Bessie Welder Wildlife Foundation. 
Exit right off the highway immediately after the sign and proceed to the Foundation's white stucco gate house. 
If you cross the Aransas River Bridge you missed the exit by about 1.5 miles. 
The Headquarters is located 2 miles from the main gate. Continue on the paved road without turning onto side roads until you cross a cattle guard. After you have crossed the cattle guard, you will see a sign directing you to the Headquarters.    
You can also Google:  "10429 Welder Wildlife"
P.O. Box 1400
Sinton, Texas 78387

361-364-2643