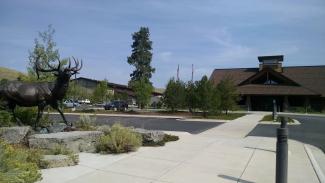 The RMEF Headquarters and Visitor Center sits on 22 acres of land along a natural mountain stream. It includes fun and interactive exhibits to learn more about elk, elk country and the role the RMEF plays in conservation. Discover the diverse wildlife that calls elk country home, explore the role we all play in conserving habitat, and connect with the rich heritage that makes the outdoors so important to so many of us. Along the way, you can hear elk bugle, test your knowledge of wildlife, identify animal tracks, feel the weight of an elk antler, and enjoy wildlife conservation films. Other highlights include an impressive display of trophy elk mounts and our gift shop featuring Rocky Mountain Elk Foundation clothing and merchandise, wildlife art, calendars, and more. 
 
Outdoor Walking Trail
Those wanting to stretch their legs will enjoy the beautiful, wooded nature trail that winds its way around the 22-acre RMEF property. Watch for the white-tailed deer, turkeys, bald eagles, owls, trout and other wildlife that frequent the property.
Rocky Mountain Elk Foundation
5705 Grant Creek
Missoula, MT 59808
(406) 523-4500