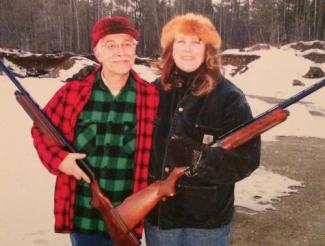 CLfT Instructor- Hunter Education Instructor
Vermont Fish & Wildlife Department
802-723-6678
Michael Kolsun has been a volunteer Hunter Education instructor for the Vermont F&W department for 30 years and serves on the F&W board. He is certified in hunter, bow and trapper education and currently serves as a Chief Instructor. Growing up in a non hunting family, he was mentored into hunting in his early twenties. After all the help he received, the importance of 'paying it forward' lead him to becoming a certified instructor. Through networking in his local community, he now has a team of 12 instructors, teaching a hands on, interactive, experiential based class.
He has attended the Tom Brown Tracker School, learned to make primitive longbows with John McPherson, is an avid hand loader of ammunition and has spent time as a primitive rendezvous/fur trade era, muzzle loader competitor. Taking the hunt to a deeper level of satisfaction, which includes butchering and caring for ones harvested game, is a year round pursuit.
As an Endowment member of the NRA, he has instructor ratings in pistol and shotgun. After retirement from UPS, he has started Vermont Advanced Shooting Sports (V.A.S.S.), a post hunter education school, to facilitate the new shooter with limited mentoring opportunity.
Michael and his wife, Molly Cook, live on 38 acres in the Northeast Kingdom in Brighton, VT. They spend their time managing their land to sustain wildlife, hunting, fishing, shooting and enjoying the gifts that nature provides. Wild game meat in the freezer is their preferred diet.